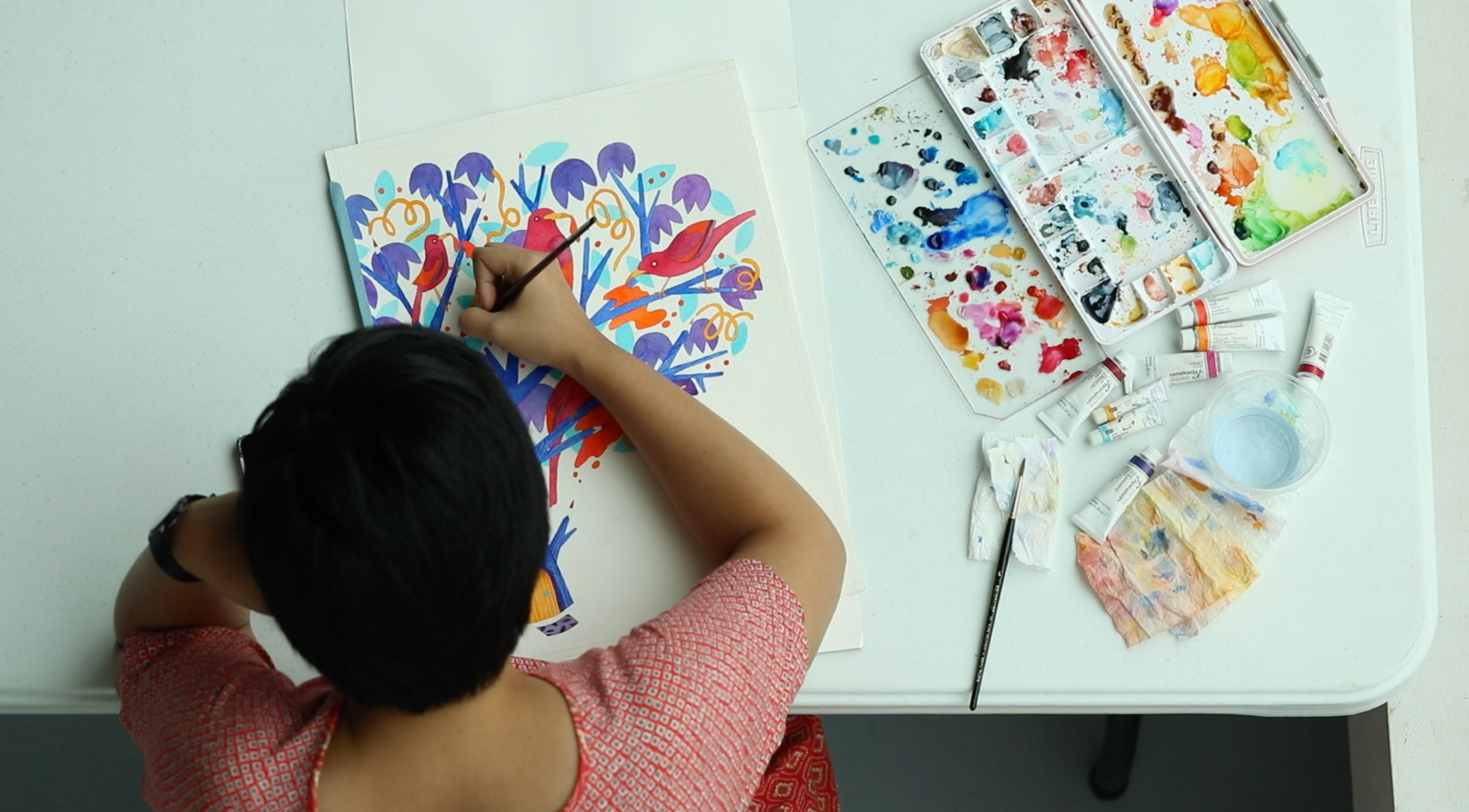 I currently work full-time with Studio Dialogo, a boutique design studio specializing in corporate identity design, environmental graphic design, and illustration. I am also part of 

Ang Ilustrador ng Kabataan

, an organization of Filipino artists dedicated to the creation, promotion, and appreciation of illustration for children. 
My work has appeared in various forms such as books, editorial illustrations, merchandise, apparel, packaging, identity and brand materials, and environmental graphics. 
Some of the groups and clients I have worked with before include Adarna House, Anvil Publishing, World Wildlife Fund (WWF), Masungi Georeserve, The Cornell Lab of Ornithology, OCEANA, The Philippine Star, Summit Media, Oishi, and Bench. I have also participated in art exhibitions in Manila and abroad.
In 2015 (July-Dec), I was part of an internship at the Cornell Lab of Ornithology in Ithaca, New York, under the Bartels Scientific Illustration Internship Program. My projects were focused on conservation education materials for children featuring the critically-endangered Philippine Eagle. My main output was the children's book An Eagle's Feather which was initially produced in a large-scale format for the Phil. Eagle Foundation's education program, and was later published by the Cornell Lab Publishing Group.
I work and play with different materials.
I can draw and paint using traditional media or through the computer. My professional experience from working with Studio Dialogo has also exposed me to working with a wide variety of clients, suppliers, industrial materials, and production processes.
I am very much inspired by plants, animals, natural history, local culture, and bits of daily life.
I like working with people from different fields and expertise, which is part of what draws me to working with advocacy groups and other organizations related to my interests. I enjoy learning from others alongside contributing my own work to a project. If you have projects in line with these topics especially, let me know! 
☻
Full CV AND PORTFOLIO FILE available upon request

---
Education
2010, BFA Information Design, Ateneo de Manila University
Published Work
Kaisa-Isa Niyan: A Maguindanaon Folk Song
Tahanan Books, 2019

Karapat Dapat
Ang Ilustrador ng Kabataan and CANVAS, 2018
The Bottomline on Bottom Trawling
OCEANA Philippines, 2018
Dear Universe
written by Pierra Calasanz-Labrador, Anvil Publishing, 2018
Good Night Philippines, Good Night World
written by Mila Bongco-Philipzig, Anvil Publishing, 2016
An Eagle's Feather
written by Minfong Ho and The Philippine Eagle Foundation, produced by the Cornell Lab of Ornithology, 2016
Ang Kanta ng Kiping
written by Ferdinand Chia Pangan, published by Child Fund Philippines, 2015
Can We Live Without Trees?
written by May Tobias-Papa, published by Adarna House, 2014
Hating Kapatid
written by Raissa Rivera Falgui, published by Adarna House, 2013
Daloy ng Pag-asa
written by Obel Resurrecion, produced by The World Wildlife Fund and BDO, 2013
Pangangasiwa sa Ating mga Basura
written by Obel Resurrecion, produced by The World Wildlife Fund and BDO, 2013
100 Questions Filipino Kids Ask, vol. 2
published by Adarna House, 2012
Hayop, Halaman, Karagatan, Atbp. (Animals, Plants, the Seas, Etc.)
written by Obel Resurrecion, produced by The World Wildlife Fund and BDO, 2012
Press & Interviews
YStyle
Real Living
Candy Mag Creative Space
Bookwatch
Kanto Journal 
The Philippine Star
Spot.ph
 • 
ArtPlus
Recognition
Philippine Board on Books for Young People Alcala Prize
Honorable Mention, 2019
National Children's Book Awards
Best Reads for Kids, for Hating Kapatid, 2014
Loyola Schools Awards for the Arts
Graphic Design, 2011
Selected Exhibits
2019
Peek a Book
 • Ayala Museum
Double Feature
 • Kaida Contemporary Manila
2018
Venus in Firs
 • Project 20, QC
Shelved Wishes
• Prism Gallery, Makati
Between a Puddle and the Ocean
• Galerie Roberto, Alabang
Peek a Book
• Cultural Center of the Philippines, Manila
2017
Pang Hui Ba Huo
• POST, Cubao X, Quezon City
Camouflage
• Light Grey Art Lab • Minneapolis
Karapatan
• CANVAS Looking for Juan Outdoor Banner Project, Vargas Museum, QC
2016
Tinker Tales
 • Ang Ilustrador ng Kabataan's 25th Anniversary Exhibit, Ayala Museum, Makati City
Studio Dialogo's 10th Anniversary Exhibit
• Prism Gallery, Makati City
Never Odd or Even
 • Light Grey Art Lab, Minneapolis
2015
GUTS
 • Light Grey Art Lab, Minneapolis
2014
Myths and Legends
• CANVAS Looking for Juan Outdoor Banner Project, Vargas Museum, QC
Tale Spun 
• Ang Ilustrador ng Kabataan's 23rd Annual Exhibit, CANVAS Gallery and Gardens, QC
2013
6 Degrees
 • Light Grey Art Lab, Minneapolis
SMART 
•  Light Grey Art Lab, Minneapolis
2012
Mabubulaklak na Dila
• Ang Ilustrador ng Kabataan's 21st Annual Exhibit
   CANVAS Gallery and Gardens, QC and Corredor Gallery, University of the Philippines, QC
Kalayaan
• CANVAS Looking for Juan Outdoor Banner Project, Vargas Museum, QC
Pulp Fiction
• Art Informal, San Juan
2011
Ang INK 20 Taon
• Ang Ilustrador ng Kabataan's 20th Anniversary Exhibit, Ayala Museum, Makati City